Types of Packaging – Corrugated Boxes
Corrugated boxes have been in wide use for over a century. In fact they are the most used form of transport packaging (95% of North American consumer goods are transported around the globe in corrugated boxes). They are not only used to transport products domestically and internationally, but also used to display and promote retail products (Point of Purchase or POP displays).
Corrugated boxes are also increasingly being used as primary packaging in lieu of traditional folding cartons.
Corrugated is used in almost every facet and genre of consumer goods:
food and beverage
office supplies
books
electronics
clothing
building materials/tools
etc.
There are well over 1000 facilities in the United States that either manufacture or convert corrugated, or both.
What are Corrugated Boxes?
Corrugated boxes (known also as "combined board", "corrugated fiberboard", or "corrugated board") are composed of two main elements:
Both of these elements are made from the same type of robust paper called containerboard.
Medium – the center fluted (corrugated) material, sometimes called "corrugated medium"
Linerboard – the flat outside sheets of paper that are glued to the medium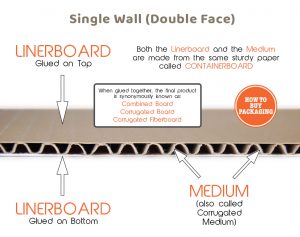 So, take a flat sheet of containerboard and put waves in it (commonly called "flutes"). Then glue this fluted paper (now referred to as the "medium") to one or more pieces of another flat sheet of containerboard referred to as "linerboard". What you get is called "combined board". Combined board is very strong relative to its cost and is very recyclable (in fact, it is recycled more than all other packaging materials).
---
The medium of Corrugated Boxes have 5 basic "flute classifications" also called "flute profiles":
A Flute: is the original flute size with approximately 33 flutes (waves) per foot.
B Flute: has smaller flutes than A Flute and has more of them, around 47 flutes per foot. It was created to box canned goods that were self-supporting and thus didn't require as much load support.
C Flute: was invented next to serve as an all-purpose size and has about 38 flutes per foot.
E Flute: is thinner with 90 flutes per foot
F Flute: was created to be used as a folding carton would be – to hold light to medium-weight retail goods and be printed on either directly or using a litho laminated label.
* It's important to note that flute profiles are more like guidelines and can vary among manufacturers in regards to size of actual flutes and amount of flutes per foot. Also to note, there exist many more flute profiles than the 5 basic ones I listed above.
So typically, the larger the flute size, the more cushioning and compression resistance it offers. Smaller flutes offer better graphics printing capabilities. The smallest flute sizes like E and F can be used instead of standard folding carton boxes (primary retail boxes) and can offer greater strength and structural integrity as well.
Here is an image of a corrugated box used as primary retail packaging. The graphics look great.
There are Four Basic Kinds of Combined Board:
Single Face – a corrugated medium and a single sheet of linerboard are glued together
Single Wall (Double Face) – a corrugated medium and two sheets of liner board (one on each side) are glued together
Double Wall – three sheets of linerboard are glued to two mediums
Triple Wall – four sheets of linerboard are glued to three mediums
It's not uncommon for different flute profiles to be used in the same piece of combined board. For example, a triple wall board may have a layer of A flute medium combined with a layer of C flute and E flute. Having multiple flute profiles varies the packaging's compression and cushioning, as well as overall thickness and printability to suite the customer's needs.
For a look at the various corrugated box styles click here.
When buying corrugated packaging, it is important to let your supplier know the purpose and weight of the product going inside, the marketing needs of the packaging's exterior, when you need the packaging completed, and how it will ultimately be transported. The supplier will then be able to take this information and make custom corrugated packaging for you in a timely manner that should cost you the least amount of money, and at the same time, keep your product safe from damage.